H O W  P E R F O R M A N C E  W O R K S
G E T T I N G   R E A L   A B O U T   P E R F O R M A N C E
A  6 – W E E K   C O U R S E  F O R  C L A S S I C A L   M U S I C I A N S
12 MARCH TO 23 APRIL 2018
Countdown until registration closes
"Amanda Cole is one of the most remarkable performers I have taught
in her ability to hear a new idea and then freely experiment with it and incorporate it in her work."
Cathy Madden, Principal Lecturer, UW School of Drama, Washington
"Simple, powerfully demonstrated tools, making a marked and immediate change for each participant. Amanda's clear demonstration of their effectiveness which was often quite striking."
Pauline, Sippy Downs, Qld
"I've seen a lot of singers in my time. Amanda Cole brings such delightful and sensitive touches to the songs she sings that they come to life in an extraordinary way."
Paul Seto, Former Programmer 4MBS, Australia.
"Thank you for the happy, accepting and supportive learning space, at the same time focussed but playful and fun, with lots of revealing surprises."
Pauline, Perwillowen, QLD
"Amanda helped me rediscover my joy of singing! I couldn't have hoped for more. I was very happy with the course"
Ber O Grady, Hypnotherapist, Doonan
"It was such a privilege to be a part of such a beautiful and supportive group."
Jo, Doonan, Qld
"What you teach is better than Toastmasters."
Jasmine Shen, PhD student, Otago (New Zealand)
"Brings interpretive words and insight to every song…"
Gregory Berg, Journal of Singing, USA.
"The children were spellbound by your presence, which was quite magical, if I may say. All the best with your incredible work."
Kasia Palko, Teacher, Noosa Pengari Steiner School (Qld)
"We were all, quite frankly, enraptured which seems a wholly appropriate response to the music of a visionary."
(Hildegard & the Celtic Bard, Maleny, 2017). Pat Roche, audience member.
Do you fall to pieces, or want to run away, in front of an audience?
Do you struggle to share the inner brilliance you know you have,
but which retires wounded from the stage,
or worse, doesn't even make an appearance?
Your mission, should you choose to accept it, is to learn the secrets and realities of music performance that will maximise your confidence and incorporate them into your rehearsal practices… so that 6 weeks from now you can approach performance with excitement, a quiet mind and tools that work to get the best out of you, your instrument and your audience.
FEATURES
Understand Performance: Get real about performance, Recognize performance as the fourth skill (along with technique, musicianship, interpretation) so you can connect to your big why, get co-ordinated and find a constructive way in.
Master mind & body: So you can reach your potential on stage.
Befriend adrenaline: So it can enhance your performance.
Win audiences: Get audiences to help you, not scare you.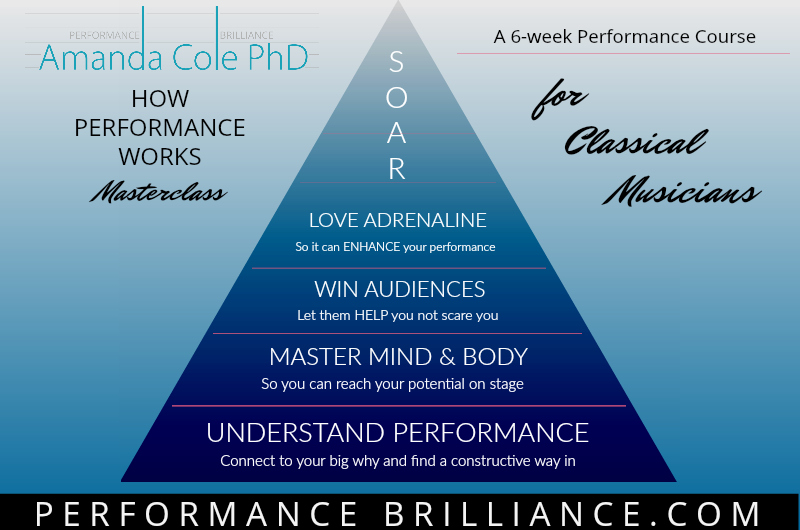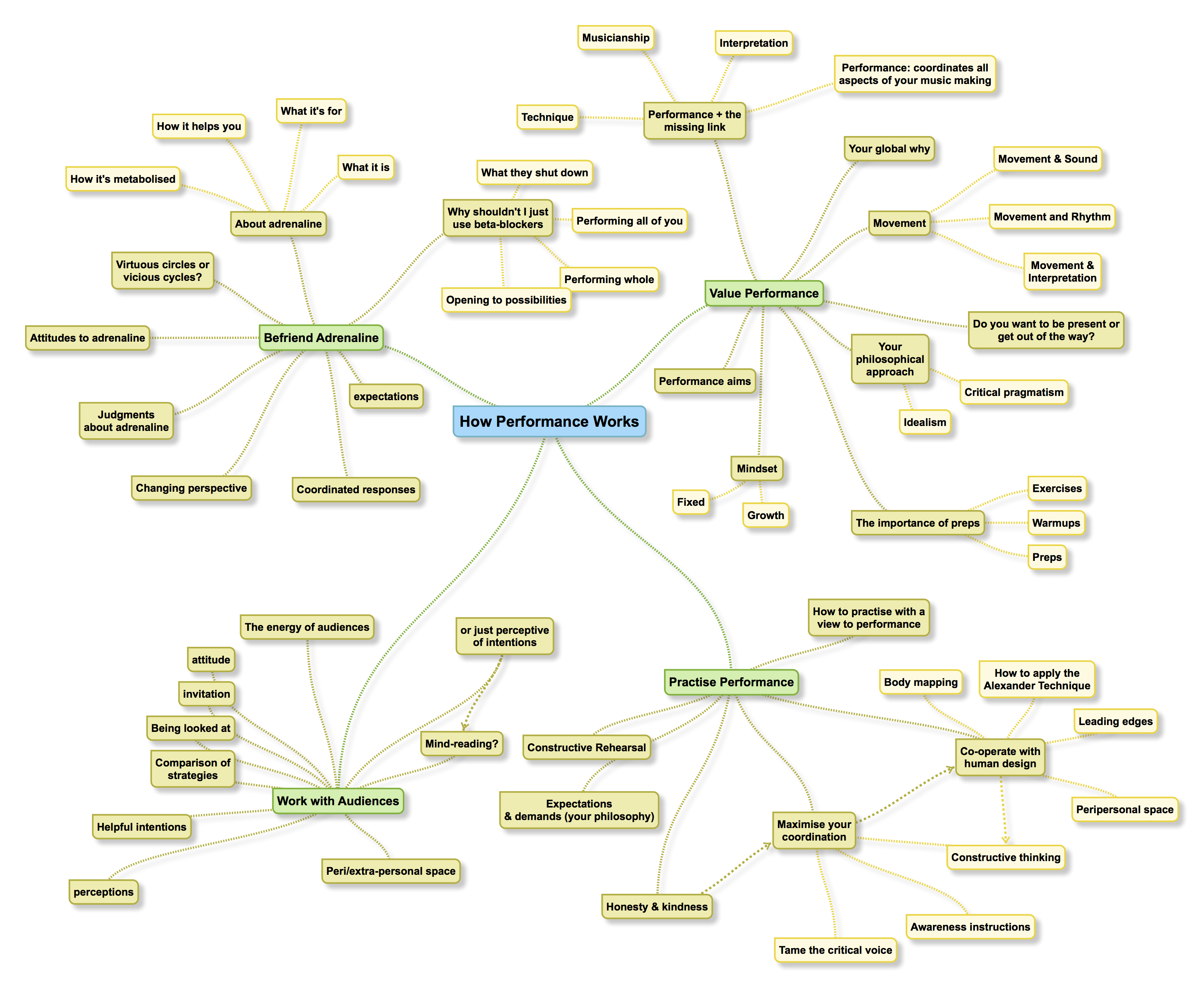 BIRD'S EYE VIEW
UNDERSTAND Performance: see and value performance as the 4th quadrant (along with technique, musicianship, interpretation), performance aims, presence vs "getting out of the way," global why/how, movement, your philosophical approach to making music: critical pragmatism versus idealism, mindset (growth vs fixed), performance preps, exercises and warm-ups
MASTER MIND & BODY: how to practise with a view to performance, cooperate with human design to maximise your coordination, whole-person strategies, awareness instructions, inner game, rehearsal hellos, questions vs expectations/demands
BEFRIEND ADRENALINE: changing perspectives: what it is, what it's for, what it does, how it helps you, how it's metabolised, virtuous circles>vicious circles, attitude, judgment, coordination, beta-blockers, expected states of being
WIN AUDIENCES: perceptive but not mind readers, energy, helpful intention, attitude, effects of inviting, being looked at, effects of pretence (constructive/non-constructive)
How are YOU getting to the next level?
Get clear on your next step with a free 20-minute session
PRODUCT ORIGIN STORY
I remember my first line in a school play. I was about twelve. It was four words. I practised them over and over. "What about a tunnel?" At home I'd be fine, but on stage in rehearsal, I'd say them loud and clear, only to be told again by the student-directors that I wasn't making any noise. None. I was completely inaudible at the back of the hall. For several decades this was pretty much my response to being in front of an audience. My sound would shrink to next-to-nothing, I would literally lose my voice. When I had a microphone, it was a different story. Once I represented my school at an education conference. I actually gave a several-page speech to a gigantic crowd. I still remember the feeling my adrenaline gave me, of my stomach dropping out and my fingers feeling all weird, but I knew I wanted to share my message. I know people heard me because afterward someone criticised me for using "he" and "his" instead of "he/she" and "his/her." I realised the value of being heard and started wondering about what was going on when I couldn't be heard. I kind of became addicted to opportunities to stand up and test myself in front of a group. Sometimes it worked and sometimes it didn't. When I began singing lessons, both my singing and my speaking voice improved, as I understood how to use them to be heard. But I still didn't really learn how to be on stage, how to think about my audience, what to do with that fluttery feeling in my chest (actually my whole body) that seemed to take my breath away altogether. Performances were hit and miss, because I didn't have a way to think about these things and I certainly didn't have a plan. Occasionally I'd do well, but I couldn't count on it. It felt like gambling. How was it going to be today? Would I feel confident and capable or would I lose the battle with adrenaline? The crutch of beta-blockers: Then I discovered beta-blockers. They gave me a crutch to hold on to. I knew I could fall back on them in times of need. But they didn't really do anything for my underlying confidence. In fact, they eroded it. I felt like a fraud. There was always a lurking doubt that I could perform at all without them. Before, I felt I had a 50/50 chance of doing OK. Now I felt like I had a 0% chance of being able to perform without them. What if I lost them? Or forgot to bring them? Or someone asked me to sing spontaneously for them? In a way, I felt even more unsafe. There had to be another way. Learning about performance: Slowly, as I learned about adrenaline, about audiences, about the funny things I habitually did when I approached difficult parts of the music or a performance,  I began to understand that I had to change my mindest about what performance really is and can be. I changed my expectations of myself. I stopped comparing my backstage situation with other people's frontstage appearances and learned to think constructively. I learned that 50% of professional musicians take beta-blockers, mostly illicitly obtained. In the same article I read that musicians believe they can only get jobs and keep jobs if they use them. This is what I mean by the frontstage appearance of others. How classical musicians appear on stage is not how you want to be trying to make yourself feel. And judging by how others seem is perpetuating a myth. I want to change that phenomenon. I want to shake up the world of classical music and ask whether we really want this world of pretence, this world of false calm and "perfection," this dampening down of reality and excitement and drama. It's a well known fact that classical music audiences are dwindling in this day and stage. Doesn't anyone think it might have something to do with this big fat lie? Or something to do with this straining for the perfection of form, as if music is merely some kind of elite sport, instead of art, spirit, drama, humanism and the wholeness of our experience? Which includes imperfection and nature. Now when I perform, I do it with my friend, adrenaline. I make the audience a big part of my performance. I practise the skills and art of performance alongside those of technique, musicianship and interpretation. I embrace mistakes as part of my humanity. Apart from comments I now regularly get about the beauty of my voice, I also now have people observing how my soul seems to "land" when I sing, how present I become, how I inspire people or make them cry. I think these latter are the biggest compliments I've ever received. I want to help you embrace the art and phenomenon of performance by helping you get realistic about what it is and get you on the road to mastering the skills that go into it.
OFFER
4 x content modules delivered live on Tuesdays via zoom. Recorded so you can refer to them any time. 4 x 90-minute live group coaching classes on Thursdays: attend in person or on line. Also recorded so you can catch any classes you might miss. 1 x 50-minute private coaching session: in person or virtual. + BONUS OFFER IF YOU REGISTER BEFORE 5 MARCH: 1 x 30-minute private coaching session.
COACHING CLASS DATES & TIMES:
Thursday 13.00 to 14.30 Brisbane time. 15, 22, 29 MARCH & 19 APRIL If you want to do the course but can't make this time, please contact me to see if anything can be arranged. The classes will be recorded.
EXPERIENCE COURSE
THIS IS AN EXPERIENCE PRODUCT. No student left behind. Apply what you learn to what you're already doing. Your homework can be done in less than 10 minutes a day. The only other time commitment is 2.5 hours/week of contact.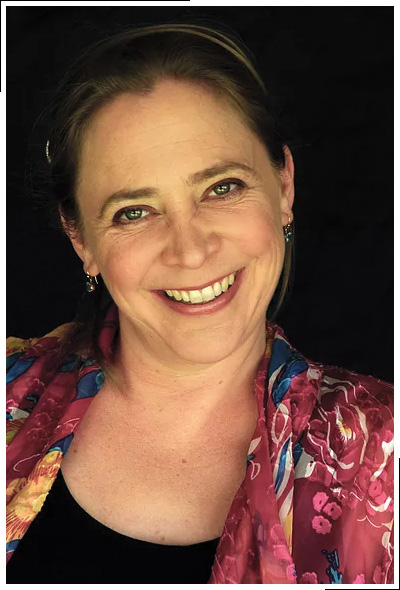 Amanda Cole holds degrees from the University of Melbourne, Monash University, Griffith University and the Victorian College of the Arts. She has received many awards and scholarships for singing and languages, including a Churchill Fellowship for study in Europe, a master's in music performance and a doctorate in performing arts education. She performs in Australia, New Zealand and Europe and has published two CDs, with three more due in 2018. She has presented academic papers at international conferences on music education, psychology, singing, and the Alexander Technique, has published in the Australian Journal of Music Education and recently contributed a chapter to a book on mentoring, to appear in 2018. Amanda Cole has studied for over a decade with performance-coach/Alexander teacher, Cathy Madden, University of Washington. She has taught at the University of Melbourne, the VCA and the University of Otago and is currently Adjunct Research Fellow at Griffith University. She is based in South East Queensland (Australia) and visits Europe, UK, USA, Canada and New Zealand.